The US Immigration and Customs Enforcement, better known by their acronym 'ICE', surely surprised a number of counterfeiters today when they seized 150 websites selling counterfeit goods this morning. Today being Cyber Monday, no doubt the counterfeiters were looking forward to making quite a killing on their illegal products.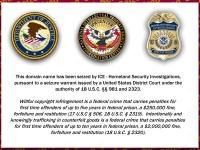 The websites that were seized now have a full page statement on them. Three large emblems, one from the Department of Justice, one from the National Intellectual Property Rights Coordination Center, and one from US Homeland Security Investigations, grace the top of the page. Below. The statement is a message saying the domain name has been seized and the message saying willful copyright infringement carries a penalty for first-time offenders up up to five years in prison and a $250,000 fine, and that knowingly trafficking in counterfeit goods carries a penalty of up to 10 years in prison and a $2 million fine.
According to a statement released by ICE, undercover agents purchased products, including golf equipment, DVD sets, professional sports jerseys, footwear, purses, and sunglasses representing a variety of trademarks through these websites. After trademark owners confirmed the items were counterfeit, court orders for shutting down the sites were obtained.
ICE also stated that 350 websites have been seized since 'Operation In Our Sites', a program to target counterfeit and piracy on the Internet, began last year.
Unfortunately, ICE did not include any information concerning any arrests that have been made or fines issued. They did say that in most cases, the products were shipped from other countries. That will likely make identification and prosecution of any of the counterfeiters unlikely.