During its webcast unveiling today, the Camry was called "the symbol of Toyota." It is that important to the company. For 13 of the last 14 years, the Toyota Camry has been the best-selling car in the United States and has outsold all the company's Lexus and Scion models combined.
Toyota has struggled in recent years with the recalls and then the tsunami disaster this year in Japan. It has revamped its flagship car with more premium outside and a quieter ride inside. The hybrid model has improved and along with the 4-cylinder model, both are priced cheaper than the 2011 models. Updates to the interior include the Entune telematics system (similar to Ford Motor's Sync, but still needs some enhancements to match it). The hybrid system has been updated and feels much smoother, with a redesign for more trunk space.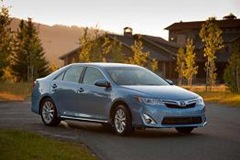 The 2.5-liter 4-cylinder LE version (the most popular) starts at $23,260, has 178hp at 6,000 rpm and gets 25mpg city and 35mpg highway.
The high-end XLE with 3.5-liter V-6 starts at $30,605, has 268hp at 6,000 rpm and gets 21mpg city and 30mpg highway.
For the hybrids, the LE version (new this year) starts at $26,660 and the XLE version starts at $28,160. Both have the same gas-electric hybrid engine with a 2.5-liter 4-cylinder gas engine the has 56hp at 5,700 rpm (coupled to the electric motor it's 141rpm at 4,500rpm). The LE hybrid gets 43mpg city and 39mpg highway. The XLE hybrid gets 41mpg city and 39mpg highway.