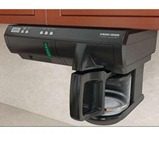 159,000 Black & Decker Spacemaker Coffeemakers are being recalled in the United States, and another 16,429 in Canada, due to consumers being injured while using the coffeemakers..
According to the U.S. Consumer Product Safety Commission (CPSC), there have been 1,276 reports of handles breaking on the coffeemakers. The agency says that 68 consumers have been burned or cut due to the broken handles.
The specific models being recalled are the Black & Decker® brand 12-cup coffeemakers which are designed to be installed under cabinets. They came in either white or black and have the words "BLACK & DECKER® SPACEMAKER™" on the top right-hand corner of the machine. A digital clock is on the top left corner, and five control buttons are located above the water reservoir. The model number can be found on the underside of the coffee maker, below the reservoir.
The specific model numbers being recalled are SDC740, SDC740B, SDC740BR, SDC740C, SDC740DIS, SDC740R, SDC750, SDC750C and SDC750DIS. They were sold a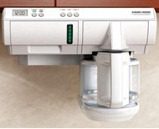 t major retailers from July 2008 through May 2012 for approximately $50-$80.
The CPSC is asking consumers to stop using the coffeemakers immediately. According to the CPSC, the machine's distributor, Applica Consumer Products Inc. of Miramar, FL, will provide a replacement coffee pot at no charge. Applica offers a further information on the recall, and a contact form for requesting a replacement pot, on their website.