The young girl that escaped a kidnapper's grasp last week was hailed as a hero at her school on Friday.
The child, 7 year old Brittney Baxter, was in the toy aisle at a Walmart in Bremen, Georgia, when the kidnapper picked her up and began carrying her away. Her mother was in a different part of the store picking up strawberries. Some of the incident was caught on Walmart security cameras.
Brittney is seen on the video struggling against the kidnapper, and is reported to have been kicking and screaming (there is no sound on the video). The video then shows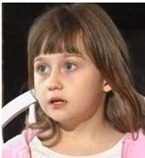 the kidnapper letting her go and running off. Other cameras in the parking lot recorded him going to his car and driving away. Thomas A. Woods, 25, of Austell, GA, was arrested shortly afterwards and has been charged with the attempted kidnapping.
At Brittney's school, her fellow students were shown the video, and discussions were led by a school counselor regarding what Brittney did to scare the attacker into letting her go. The second grader received a Certificate of Bravery from Haralson County Sheriff Eddie Mixon, and was made an honorary sheriff's deputy.
Woods, the alleged kidnapper, has a history of past violence. In 2004 he confessed to killing his uncle and burying him in a compost pile. He spent seven years in prison and was released in October, 2011. He received only 7 years because he was able to plead guilty to a lesser charge after a judge threw out the confession, and the resulting evidence, due to tactics the investigators used to obtain it.