The $99 HP TouchPad is back!
The 16GB HP TouchPad is available at the firesale price of $99, the 32GB version is available for its firesale price of $149. Both are sold through HP's eBay store at http://stores.ebay.com/hewlettpackard, in the 'laptops' section. Shipping is $19. It is expected to sell out quickly. While the eBay listing does not provide exact quantities, as of 6:02pm Central Time, more than 10 are listed as available. Warranties are available at an extra cost.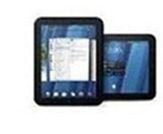 If you are a regular reader of CP, you knew this one was coming. On Friday we reported on a leaked memo to HP employees saying that refurbished HP TouchPads would go on sale today on eBay. The memo stated the TouchPads would be sold on a first come – first serve basis; that they would go on sale through HP's eBay store at 7pm Central Time today; and that employees would be able to order this evening, prior to the sale being announced to the public on Monday morning. Of course, that plan was trashed by the leak. It's unknown at this time if HP employees were allowed an opportunity for first dibs by some other means.
HP is limiting each eBay member to two TouchPad purchases, and purchases are to be completed through Paypal.
The 16GB HP TouchPad was originally priced at $499, but after it's launch earlier this year, the tablet did not sell well and after just seven weeks on the market, the price was dropped to $99. The tablet then quickly sold out in stores and online, and became the second fasting selling tablet (the iPad being number 1) for the first 10 months of this year.
—–update—–
Seven minutes into the sale, the quantity of both the 16GB and 32 GB versions have changed to "Limited quantity available".
—-update—-
Twenty minutes into the sale: 2316 of the 16GB ($99) version reported as sold. Almost 2 per second. But there is some delay in the reporting of how many are sold, so it may be much faster than that.
—-update—-
Twenty-one minutes into the sale – the sale of the 16GB version has closed, presumably sold out. Still reports 2316 sold.