The new 10.1-inch Acer Iconia TAB A501 is a touchscreen tablet with the latest Android 3.0 operating system, Honeycomb. The tablet is powered by an NVIDIA Tegra 250 1GHz dual core processor with integrated graphics and sports a 3260mAh battery that Acer claims will last for 8 hours of active use.
The capactive multi-touch display has a resolution of 1280 x 800 pixels for a full HD experience for video and gaming. The standard 16GB of memory is expandable to 32GB and it has 1GB of DDR2 RAM. This puts the Iconia right in the range of most of the tablets on the market.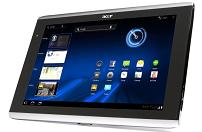 For communication, the Iconia is Wi-Fi, 3G and 4G compatible with AT&T's network – a data plan is available. The tablet finishes it's complement of hardware accessories an external monitor jock, integrated microphone, speakers, multimedia card slot, two USB 2.0 ports and a 5-megapixel rear facing camera and a 2-megapixel front facing camera.
Starting September 18th at the AT&T web site, att.com, the Acer Iconia is $479 with no contract , but with a two-year contract the savings are $150 for a final price tag of $329. The two-year service commitment requires a minimum of a $35 per month data plan. There are return restrictions – see att.com or visit an AT&T store for details.