Taiwan based Asus is about to launch a new idea into the quickly evolving world of smartphones, tablets and netbooks. A product that combines all three.
They are calling it the Asus PadFone. The PadFone has a very innovative design. It's a 10.1 inch tablet with a smartphone that slips into the back to power the tablet. The smartphone/tablet combo has a quad-core Tegra 3 processor (located in the phone) and will run Android 4 (Ice Cream Sandwich).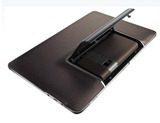 The PadFone fits into the original Asus Transformer keyboard dock – so with the smartphone inside the tablet, and the tablet docked into the keyboard, the user has a netbook. Pull the tablet part out and the PadFone can be used as a tablet. Pull the phone out of the tablet and the user has a smartphone. How's that for making the most of your smartphone's processing power?
Asus plans to show off the PadFone for the first time on February 27, at the Mobile World Congress in Catalonia, Spain, according to Paul OBrien over at MoDaCo. No word on when it might actually be available to us shoppers though.