Archos is preparing to launch a new child oriented tablet PC, called the "Child Pad."
The Child Pad will be a 7 inch tablet running Android 4.0 – a.k.a. Ice Cream Sandwich. That may just stick in the craw of many an adult who is waiting for Android 4.0 updates to show up on their own tablets. But nevertheless, Archos is planning to have the Child Pad available to shoppers by the end of this month.
Archos says that the Child Pad will feature a 1 GHz processor and 1 GB of RAM. They do not provide the actual weight, but say that it is 'lightweight'. The operating system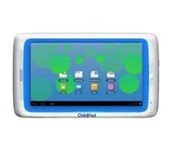 has been optimized to be kid friendly, and will include a kids app store. It also has parental controls and 'safe web browsing' backed by the French company Editions Profi. The tablet to be preloaded with 28 kid friendly apps, including Angry Birds, Pig Rush, and Flight Frenzy.
Being a kid friendly tablet, we would also hope that it's a fairly tough one, at least minimally drop proof. However, considering its price, that might be a bit much to ask for. Archos says the recommended retail price will be $129.