As we noted in a story about Dell's Streak 7 tablet yesterday, the world of tablets is a-churning! Today, a Chinese company launched a 7 inch tablet running the brand-new Android 4 (Ice Cream Sandwich) OS. Cost? Just $99.
Okay, we'll be the first ones to say it… this may just be a Kindle Fire killer!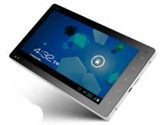 Or maybe not. But it does give you pause. The Kindle Fire has more processing power than the new tablet, called the Novo7. The Kindle Fire also has more onboard storage. But Amazon has certainly proved a weaker tablet can take on a stronger tablet when the price is right. And based on the response to the HP TouchPad firesale a few months ago– you gotta think that the $99 price is right.
Besides, the Novo7 does have some features that the Kindle Fire doesn't. For example, Novo7 has expandable storage through a micro USB slot, and front and rear facing cameras. Plus not only does Novo7 sport Android 4, but it will provide a much cleaner Android experience than a user gets with the Kindle Fire's customized Android OS.
The Novo7 is expected to hit store shelves in the US within a few months. It is currently being sold through www.ainovo.com and is available for shipping to the US.
But US consumers wanting to get one right now may run into a few problems. First of all, there's a $60 shipping and handling fee, so the price is going to be more like $159. And second… it's already reported as being 'sold out' on their site.