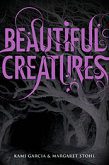 Moviegoers are always hungry for the next YA hit.
The last one was Hunger Games. This next time around? It very well may be Alcon Entertainment's adaptation of Beautiful Creatures.
If you are unfamiliar with it, Beautiful Creatures is the first book in the Caster Chronicles series. The series currently includes three published books. Two more are on the way.
Coauthored by Margaret Stohl and Kami Garcia, the series is a dark story that involves a young adult paranormal romance. It centers around a love-story between Ethan Wate, a 16 year-old mortal boy, and Lena Duchannes, a soon to be 16 year-old caster girl.
The story begins in a small town called Gatlin, a South Carolina town with a gothic setting. Lena is an outcast in Gatlin. She is a very powerful caster, or what some may call a witch.
Ethan is drawn to the girl, inexplicably, and is determined to find the reason for this connection… even it is means uncovering a dark secret. As stated in book summary "In a town with no surprises, one secret could change everything."
It is a very long book, 563 pages. But it is a mysterious, atmospheric and haunting page turner.  You can even find a taste of Romeo and Juliet in Ethan and Lena's relationship, with their families trying to keep them away because of their differences.
But you will also find, long descriptions and repetitions. It's refreshing that Ethan is the voice of the story, whereas most of the YA  books out there have girl narrations. The story has vivid characters, and the book is written with precision and intensity.
The talented Richard LaGravenese has written and directed the movie. It stars Alice Englert and Alden Ehrenreich as Ethan and Lena. As for supporting characters, very powerful adult stars are in the cast. Emma Thompson, Jeremy Irons, and Viola Davis all have the potential to capture the nonfans' hearts.
The eagerly anticipated first trailer was released two days ago, September 19, and can be seen below. It's obviously designed for Harry Potter and Twilight fans. The movie is set to hit theaters February 13, 2013.
And for readers of the series: the fourth book, Beautiful Redemption, will be released on October, 23.
Will Beautiful Creatures be as big, or bigger, than Harry Potter. Bigger than Hunger Games? Leave your thoughts and predictions below!
httpvh://youtu.be/_Mmo4GzMMqw