Best Buy, already reeling from a $1.7 billion loss during the last quarter of 2011, is now seeking new leadership after the resignation of its CEO.
Brian Dunn's resignation comes at a time that Best Buy's board was conducting a probe into his "personal conduct," according to a statement from the company. Best Buy did not provide any further information concerning the probe, or what it involved.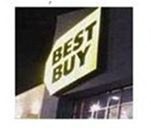 Many were already questioning Dunn's leadership. In some ways it seems incongruent that Best Buy, famous for its days early lines during special sales events, could be struggling with sales. But it is. Retail analyst blame much of the loss in sales to shoppers using the store as a way to preview products before buying them on Amazon. Some of Dunn's critics say he was too slow to respond to the change in the way shoppers were using the store.
Just last week, Best Buy announced they were closing 50 of their large stores, opening 100 new, smaller, stores with a focus on smart phone sales, and eliminating 400 positions. The company said they would continue on that course despite Dunn's resignation.