New Loyalty Program!
Best Buy has recently announced that Reward Zone, their universally praised customer loyalty program, will now be replaced by a new and improved service called "My Best Buy".
All customers that were previously signed up with Reward Zone, as of today, will have their membership changed to reflect the features of this new program and additionally, will receive all the benefits (and drawbacks) that come along with it.
When a service of this caliber gets "re-branded" it is usually followed up with a few caveats that, for better or worse (usually worse), leaves large numbers customers out in the cold.
In the case of "My Best Buy" however, the American multinational seems to have gone the extra mile to ensure that all growing pains have been kept to a minimum.
Is this a meaningful change or simply a case of re-branding? 
What Happens To My Points?
Nothing! The great thing about "My Best Buy" is that it essentially changes nothing about the previous program but, at the same time, manages add a slew of new features that that make the subscription even more worthwhile.
After being switched over to the new program customers, as mentioned earlier, will keep all the points they have already earned and, in addition, will still get one additional point credited to their account for every dollar spent.
Shoppers will also still be able to use their Best Buy card (now the "My Best Buy" card) to get 5% back in rewards. And so with all of this remaining exactly the same let us get into  what makes this new program different from, and better than the previous one.
What's New?
Below is a quick break down of all of the notable features that have been added.
•
Free points every time you check in (to Best Buy)
•
Two new membership levels  (elite and elite plus)
•
Invitations to private shopping events
•
More features in the mobile app
•
Early access to Black Friday deals (for elite members only)
•
Extended return policy (elite members only)
•
Dedicated customer service line (elite members only)
Elite and Elite plus
By now, most of you would have noticed that all of the cooler features have been made exclusive to shoppers with the newly added Elite and Elite plus membership levels. These however, are not paid memberships and from the outside, seem to exist as a means of both rewarding and encouraging Best Buy loyals. For the more visually inclined, The diagram below shows a breakdown of the new elite and elite plus membership levels.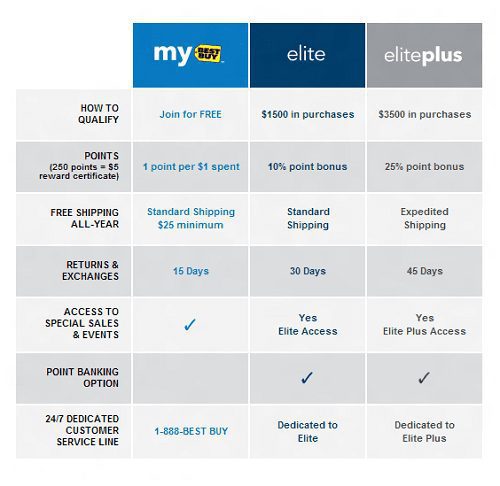 Tell us what you think in the comments section below!