The new HTC One X smartphone, introduced just the day before yesterday by HTC at the Mobile World Congress in Barcelona, Spain, is now available for pre-ordering from Best Buy.
Ah… there's a bit of a catch though. The price of the new phone has not been revealed.
Best Buy stores, according to Android Community, will be taking pre-orders for the HTC One X on AT&T for a refundable $50 deposit. Well, maybe not refundable in all circumstances. The Android Community story indicates that shoppers will get their money back "unless you decide to take your name off the waiting list."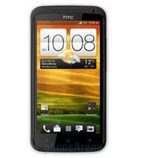 It's hard to imagine that Best Buy would not refund the money if the shopper feels the price of the phone is too high once the pricing is announced. We have sent a request to a Best Buy spokesman to clarify this, and will update this page with their response.
The HTC One X is the deluxe version of the three HTC One series phones introduced earlier this week. It has a big 4.7 inch Gorilla Glass touchscreen. It's powered by a 1.5GHz Tegra 3 quad-core processor with 1 GB of RAM. It runs Android 4.0 (Ice Cream Sandwich). The smartphone features Beats By Dr. Dre Audio, an 8 megapixel rear facing camera with an auto-burst shutter, and a 1.3 megapixel front facing camera. The primary camera can take stills while also taking video.
At this time, the pre-order offer is not listed on Best Buy's website.
—update–
A new story updates the details regarding HTC One X pre-ordering. See: Pre-Order HTC One X And Your Deposit Becomes A $50 Gift Card