Just as it seemed that the default tablet size had pretty much been set to a 7 to 10 inch standard, along comes Toshiba to throw a new idea into the marketplace. A monster tablet with a 13 inch touchscreen.
The Toshiba Excite is set for a June 10th launch. Without a doubt it will be the largest Android tablet available to shoppers. Of course, the price is on the 'big' side too, but perhaps not quite as much as one might think: $649 for the lower priced model.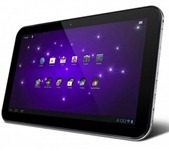 The 13 incher will feature Nvidia Tegra 3 quad-core processor and has 1 GB of RAM. It runs Android 4.0 (Ice Cream Sandwich) and includes a 5 megapixel rear facing camera and a 2 megapixel front facing one. There will be a full-size SD card slot, a micro-USB port, and a micro-HDMI port. The big tablet weighs in at a pretty hefty 2.2 pounds.
When the Toshiba Excite launches, there will be two models. The version with 32 GB of storage will be $649, and a version with 64 GB of storage will cost $749.
Will the big touchscreen be handy for tablet top games with multiple players, watching videos, or perhaps useful during collaborative business/work meetings? Let us know how you would use it in the comments below.