Following redbox's recent price increase, Blockbuster Express has also decided to do a bit of price 'restructuring', including a price increase.
Redbox raised their rates on DVD movie rentals on October 31, from $1 per night to $1.20. Redbox is limited by most studios to renting movies only after they have been available in stores for 28 days.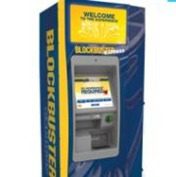 Blockbuster Express is taking a different tack. They are moving from $1 rentals, with 'Hot List' movies costing $2.99 the first night,  into a three tiered structure based on the release date. The rental fee is $3 the first night for DVD movies released in stores within the last 28 days, and a $1 per night afterwards. These they refer to now as 'Hot Movies'. The next tier is 'Recent Releases', newer movies… but past their 28 day window, are now $2 the first night, $1 per night afterwards. 'All Other Movies', the third tier, are $1 per night. Blu-ray rentals are $1 more the first night only.
The new pricing structure will allow Blockbuster Express to have new movies available within the 28 day window that movies are first available in stores. According to Blockbuster Express, some studios will also receive a portion of the second tier fees as well.
The new pricing has been in limited testing in some markets, and will be rolled out to all of Blockbuster Express's 10,000+ kiosks on November 8.