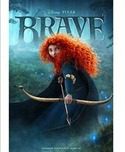 "Brave" took US theaters by storm this weekend.
The animated film featuring a feisty Scottish redhead is estimated to have raked in more than $66 million at North American theaters during its opening weekend. Worldwide receipts for "Brave" are estimated to be about $80 million, according to industry analysts.
That makes "Brave" the third largest debuting film of any of the Walt Disney Co/Pixar Animation Studios releases to date. The top earning Pixar film is "Toy Story 3," which brought in $110 million on it's opening weekend in the US and Canada. Number two is "Up," which earned $68 million.
Will "Brave" have the heart to keep going strong in the coming weeks?
Hard to say. The film is garnering mixed reviews from moviegoers who went to see it this weekend. Over at RottenTomatoes, with more than 62,000 audience members reporting in, the film scored an 85% "like it" rating.
That sounds good in and of itself. But it's in the comments that things get more interesting. Moviegoer Will T provided a fairly typical review when he wrote that Brave is a "fun, exciting movie that falls below the regular Pixar standard, featuring a rudimentary story, but makes up for it in the heart of the characters, and what it tries to convey. A flawed movie, but a great one too." Flawed… but great, hmmm… In a similar vein, Coup writes "'Brave'. Not up there with the instant Pixar classics. Thoroughly enjoyable and gorgeously animated nonetheless."
The story revolves around a tradition-bucking princess named Merida. The princess has striking red hair and is handy with bows and arrows. Her rebellious ways lead to a curse being placed upon her family, which the princess must undo before the second sunrise.
If you've seen the movie – we want to hear from you! Please write your own review in the comment section below.