AMC's Breaking Bad premiers in it's 4th season tonight. But some of us are behind the times and need to catch up with this obviously popular and apparently growing TV phenomenon.
Luckily for us, Breaking Bad season 1 (2008), season 2 (2009) and season 3 (2010) are all out on DVD, Blu-ray and via streaming online, and are on sale in some locations.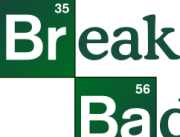 AMC actually has DVD's of the 1st and 2nd season on sale right now. Regularly priced at $39.99, they are now $34.99 each. Season 3 is available directly from AMC for $39.99. Their AMC store also has a Breaking Bad three season combo on sale for $99, $10 off it's regular price… but it's on back order with a note saying it won't ship until Aug 1 – ouch! They do not appear to have it on Blu-ray at all.
Amazon has all three seasons for sale through their site as well, of course. They have them in DVD and Blu-ray, and also streaming. Many of the DVD's and Blu-ray versions are on sale. A quick look finds that they offer individual streaming of Breaking Bad episodes for about $2 to $3 each. They also have each season in it's entirety available through streaming. Season 1 via streaming is $10.99, seasons 2 and 3 are $19.99 each. Amazon streaming can be watched online, downloaded to a PC, or watched on TV through Tivo or another device such as certain game consoles, Blu-ray players or other media devices. All three seasons of Breaking Bad rate 4.5 to 5 stars at Amazon.
Netflix also has all three seasons of Breaking Bad available on DVD (they do not list it as available via streaming though). They are currently offering a free month month trial of their service.
Season 4 of Breaking Bad airs tonight on AMC, at 10pm Eastern time, 9pm Central.