Build-A-Bear has agreed to pay a civil penalty of $600,000 after neglecting to report a safety defect related to their folding beach chair toy. The toy was designed for stuffed animals to sit in.
The toy chair, which has a wooden folding frame (see image), was sold by Build-A-Bear from March 2001 to October of 2008. The agreement settled a claim by the U.S. Consumer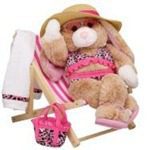 Product Safety Commission (CPSC) which said that Build-A-Bear knowingly failed to report a hazardous defect in the toy in a timely manner.
Federal law requires companies such as Build-A-Bear to report to the CPSC within 24 hours if they obtain "information reasonably supporting the conclusion that a product contains a defect, which could create a substantial product hazard, creates an unreasonable risk of serious injury or death, or fails to comply with any consumer product safety rule or any other rule, regulation, standard or ban enforced by CPSC," the CPSC said in a release.
According to the CPSC, children can accidentally have their fingers pinched, cut, or even amputated by the sharp edges on the folding chair's wooden frame. Build-A-Bear became aware of 10 such incidents between July 2007 and January of 2009. Build-A-Bear stopped selling the toy chairs in October of 2008. However, they did not report these incidents to the CPSC until March of 2009, upon which time a recall was issued.
Build-A-Bear said that they had insufficient information about the injuries to conclude there was a substantial hazard or unreasonable risk of injury or death before that time.
According to the 2009 recall statement, about 260,000 of the toy chairs were sold in the United States, and about 9,700 in Canada. The statement said that fingers could be bruised, pinched or cut while the chair was being folded.There were eight injuries reported at that point.
As per the terms of the agreement, Build-A-Bear did not admit guilt, and the agreement does not constitute a determination by the CPSC that Build-A-Bear violated any reporting requirements.