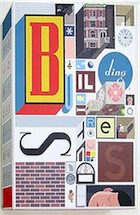 Chris Ware's new graphic novel, Building Stories, was published on October 2. At the age of 45, he is one of the most well-known and creative American comics artists.
His new book is a work of art and genius. It comes in a large rectangular cardboard box, assorted as 14 various sized booklets, pamphlets, magazines.
There is no particular order to read them in. They contain a story of the lives of residents in a three-story Chicago apartment, and they give each reader the opportunity of experiencing a different and personalized book with the same material.
As in his previous works, this one also offers very powerful and emotional stories. They follow around the four inhabitants, who are somehow connected to each other, while they try to find the meaning of their lives.
There's the one-legged thirty-something woman, who is also the central character, living on the top floor, frustrated with her husband, gaining weight, and wondering what happened to her dreams. Then an old landlady, a spinster, living on the ground floor, still walking alone down memory lane. A youngish couple, living on the middle floor, having relationship problems. And, the only male view,  Branford, The Best Bee In The World, who is literally a bee. These  characters are structured in an easy to relate to way, which makes this great book really anyone's story.
The feeling of loneliness haunts the reader through out the pages, but also the connection between the characters imply that it is impossible to be ultimately alone. Ware suggests in a way that people everywhere are connected.
The art is not just limited to the story or the presentation of the book. The actual graphics are unique, detailed, and beyond the standards of conventional graphic novels. In the different sized material, you can easily tell Chris Ware is very comfortable with his work both at large and small scales. And with the use of different narrative techniques in the same novel, he presents a new way of writing.
There are of course pitfalls. The no-particular-order reading is a bit of a risky gambit. The insights of the protagonist could be read too early,  or too late… which would make parts of the story either incomprehensible or just slow down the drive.
But still this great novel. With the knowledge of one's starting point can be another's ending, it makes you want to reread it all. It is like a keepsake box, full of unforgettable memories.
Have you read Building Stories? If so, were you already a graphic novels fan, or was this your first time?
What did you think about the book? Please leave your comments…