Late last week Busch Gardens of Williamsburg, Va, released the planned opening date of their new indoor/outdoor roller coaster, Verbolten.
Announced back in September of 2010, Verbolten is located in the park's Oktoberfest Village. It features two high speed launches that take riders through the "Black Forest." Included as part of the ride is a traditional 90 foot roller coaster drop over Busch Gardens' Rhine River, and what Busch Gardens' refers to as a "breathtaking free-fall element."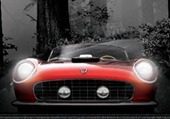 Busch Gardens' plans to open Verbolten to the public on March 8. The coaster ride even has its own website, at Verbolten.com, and countdown clock (which can be seen on the site). An animated video with a preview of the theme of the new ride was posted online by Busch Gardens earlier this year and can be viewed below.
Busch Gardens said in a statement that Verbolten is the "capstone attraction of a two-year rejuvenation project in Busch Gardens' Oktoberfest village. Mach Tower, the park's 240-foot drop tower, joins the launch coaster as the park's newest thrill attractions."
The Virginia Gazette reports that the coaster is the most expensive ride Busch Gardens has ever created.