Washington based Golden Glen Creamery has issued a voluntary recall on butter made by the company on November 2, 2011 because it may be contaminated with Listeria monocytogenes.
This is the same type of bacteria that caused an outbreak of Listeria just a few months ago that was traced back to cantaloupe. During that outbreak, 133 people became ill, and 29 died.
There have been no illnesses reported related to the recall of Golden Glen Creamery butter. However, a sample collected by the Washington State Department of Agriculture (WSDA) tested positive for Listeria. The company has ceased production and is investigating along with the WSDA and the US Food and Drug Administration (FDA).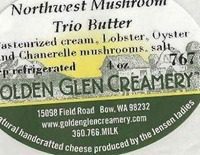 The butter was sold at the Whole Foods Market in Redmond, WA, and at Metropolitan Market locations throughout Washington. It comes in 4 ounce plastic round containers labeled 'Herbes de Provence Butter' and 'Northwest Mushroom Trio Butter'. It was distributed between November 7 and November 28, 2011. The recalled products have the code '767' on the top label.
The company is asking consumers that have the recalled butter to destroy it or return it to the place it was purchased for a full refund. The company can also be contacted at 360-766-6455, or by email at info@goldenglencreamery.com for additional information.
---
Have A Question? Ask Jessica!