We just received a note from Best Buy announcing a special offer on purchases of their Acer Iconia tablets.
According to the statement from Best Buy, anyone purchasing a 16 GB Acer Iconia tablet from their stores or website next week will also receive, free, a $100 gift card.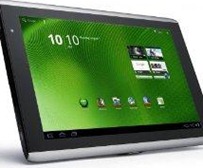 The 16 GB Acer Iconia tablet retails at Best Buy for $399.99. It has a 10.1 inch multitouch screen, a NVIDIA Tegra 2 mobile 1GHz dual core processor, and a integrated GeForce(TM) GPU, which is designed to give the user a faster gaming, video, and browsing experience. The Acer Iconia tablet is Wi-Fi enabled and includes a micro-SD card slot. It runs on the Android 3.0 (Honeycomb) OS.
The 16 GB Acer Iconia tablet is rated 4.4 out of a possible five stars by users on Best Buy's website.
The free $100 gift card offer with the purchase of an 16GB Acer Iconia Tab from Best Buy begins this Sunday, August 14, and continues until the following Sunday, August 20.