A stunning number of new electronic products are expected to be introduced at the Consumer Electronics Show (CES) in Las Vegas this week.
The Consumer Electronics Association (CEA) is estimating that 20,000 new products will be introduced during the show.
Of course, tablets are expected to be a popular item at CES this year. Shawn DuBravac, CEA's chief economist and director of research, said he expected there to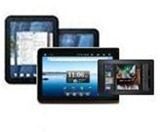 be at least 50 new tablets introduced. He also said that there will likely be more cell phones launched this year than any previous year.
TVs are also expected to be popular this year, DuBravac said that two years ago, Internet capable TVs accounted for only a 10th of the TVs shipped in the US. This year more than half are expected to be internet capable.
According to the CEA, the average household has approximately 25 consumer electronics in it. This includes TVs, computers, tablets, audio players, etc… and they expect that number to grow. The CEA said that spending on consumer electronics will exceed $1 trillion worldwide this year. Much of the growth in spending on consumer electronics is expected to come from Latin America and the Asian-Pacific region, according to the CEA's director of industry analysis Steve Koenig.
While the number of products being introduced is impressive, it is important to note that product introduction is not the same as a product launch. A number of the bleeding-edge gadgets introduced at the show may not make it to the market anytime soon. Nevertheless, we are looking forward to seeing some really impressive new technologies that are due out this year. And we'll be reporting on them here at CP!
The CES starts Tuesday and runs through the 13th.