The Chevy Volt is under investigation after a Volt's lithium-ion battery caused a fire three weeks after a test crash, according to the National Highway Traffic Safety Administration (NHTSA), who notified GM of the investigation on Friday.
According to the NHTSA, the issue first came to light last May, after a crash was conducted on a Chevy Volt in a New Car Assessment Program (NCAP) test. The test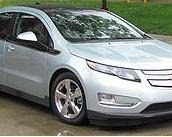 was intended to measure the car's ability to protect passengers during a side collision. The battery was damaged and the coolant line ruptured during the crash. More than three weeks after the crash, while the car was being stored in a test facility's parking lot, the car caught on fire.
That incident led to further testing, and in mid-November, the NHTSA tested three of the Chevy Volt's battery packs an in attempt to replicate the conditions of the May test. In those tests one battery caught fire on Thursday, a week after a simulated accident. Another smoked and sparked, but did not ignite.
The NHTSA stated that they are not aware of any actual crashes that have resulted in a fire from the Chevy Volt's battery pack. However, they will be opening a safety defect investigation due to the results of the test. They also stated that owners of Chevy Volts that have not been in serious accidents should not be concerned. The NHTSA said in their statement that if they find an "unreasonable risk to safety" that steps will be taken to ensure Chevy Volt owners are notified.
---
Have A Question? Ask Jessica!