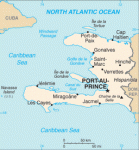 The death toll in Haiti continues to climb as six more cholera related deaths were confirmed on Monday. Officials are concerned about the risks posed the country's capital of Port-au-Prince.
So far all of the confirmed cases are known to have originated in Artibonite, but those in charge are concerned the outbreak will make its way into the capital city, which is still reeling from the January earthquake.
Many missionary and humanitarian groups have stepped up to try and prevent the spread of the disease. Some groups are holding clinics to teach the people how to avoid catching the disease. CARE has medical teams treating the patients and is also providing hygiene and water purification tablets in Port-au-Prince.
Groups are reporting long lines of people waiting to receive safe drinking water as news of the outbreak spreads throughout the country.
The disease poses a tremendous risk even though it is being contained and has the possibility of not reaching other areas.
So far the outbreak has claimed 259 lives with an additional 3015 cases being reported.
Haiti is still trying to recover from the January earthquake that devastated the country.