Disney's newest cruise ship, in fact the newest cruise ship in the world, was christened today in New York City.
The Disney Fantasy is a 1,120 foot long cruise ship with 1250 staterooms. It can carry up to 4000 passengers and a staff of approximately 1450 crew and cast members. We have been reporting on its Atlantic crossing (the ship was built in Germany) and its arrival in New York City.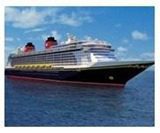 Maria Carey had the honors of christening the ship. ""I christen thee Disney Fantasy. May God bless this ship and all who sail on it," said Carey, as she stood with Disney officials and Mickey Mouse and the ship's atrium.
From New York, the ship will travel to port Canaveral, Florida, where it's set to begin seven night cruises to the Caribbean starting March 31.