Disney Cruise Lines' fourth cruise liner, the Disney Fantasy, is on its way to the US.
The new ship was built in Germany, and is the sister ship to the Disney Dream, which was launched last year. Each ship in the Disney cruise line has its own Disney character on the stern. For the Disney dream, Dumbo the Flying Elephant was chosen. It was floated out of its building dock on January 8th, 2012.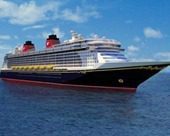 The ship left Germany just over a week ago, and is on its way to New York, where will be christened in a ceremony on March 1. Then it is scheduled to head to Cape Canaveral, Florida, where it will join its sister ship. From Cape Canaveral, it will take passengers on seven-day trips with stops in the Caribbean. Its maiden cruise is set for March 31.
Disney is providing a video blog, with comments from different members of the crew, during the ship's Atlantic crossing. They also have a way to track its daily progress. The blog and tracker are  here.
The Disney Fantasy can handle as many as 4000 passengers, there are 1250 staterooms, and 14 decks. According to Disney Cruise lines, there will be 1450 Cast and Crew Members on board "who tend to the needs of every cruise Guest each and every day."