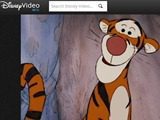 Disney has launched a new streaming video service with clips from its massive library of content.
Through their site, http://video.disney.com, Disney offers a variety of short clips. Well, there are full-length episodes of 'Mini Adventures of Winnie the Pooh', but those are just a few minutes long. 'Phineas and Ferb' are there – but just 1 to 2 minute long clips. The same is true of the 'Mickey Mouse Clubhouse' and 'Shake It Up' – just short clips.
In browsing through the site, we also found short clips of 'Handy Manny,' 'A.N.T. Farm,' 'Jake and the NeverLand Pirates,' 'Jessie,' 'Austin & Allie,' 'Little Einsteins' and more.
As for movies, there are short clips of 'The Avengers,' 'Brave,' 'Chimpanzee,' 'The Secret World of Arrietty,' 'High School Musical,' and 'The Muppets,' amongst others. There are also trailers for upcoming movies such as 'Frankenweenie'
The more we dig, the more we find… but why?
This is not something my 9 year old will enjoy browsing through. Just teasers?
I can see something like this geared toward the press, which can use these little clips to provide examples of specific movies by embedding them on their pages… we'll include a sample of the Mini Adventures of Winnie the Pooh below (it's the best thing we found on the site). But the site doesn't really look like it's designed just for the press and webmasters that want to embed the content.
Disney says on the site that it's "A new place to watch Disney videos on the web." That makes it sound like there's more to it. The site also says the service is in "Beta," which would indicate they aren't done with it.
So for now, we'll hold off any final judgments on their new streaming service and see what they offer in the future.
–update, 5/17/2012–
Seems Disney's video embed is not working consistently. We have reports of the video above working with MSIE, but not in Google's Chrome web browser, at least in some cases.