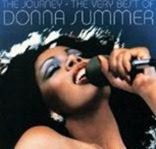 It's something we are becoming all too familiar with. A star dies, and before they are even laid to rest, the popularity of their music soars once again.
Perhaps we should consider this post-life climb to the top of the charts as a tribute. A way to pay homage to the greatness of their talent. But it's also a tribute to our own memories – for those of us that are old enough to own the memories of these songs being new, at least. The music brings back those joyful, innocent, romantic, heady, times. It also reminds us of our own mortality. With the deaths of Michael Jackson, Soul Train creator Don Cornelius, Whitney Houston, and now Donna Summer, we are seeing the death of 'our' time… our generation's 'greats'. The 70's and 80's are literally passing into history before our eyes.
But the music lives on…
Just hours after the announcement of her death, Donna Summer hit the top of Amazon's Best Sellers in Music. Her album The Journey: The Very Best of Donna Summer, is number one. The CD sells for $9.99 on Amazon. On The Radio: Greatest Hits Vol.1 & 2 is number 8 and moving up. Gold is number 25 and moving up. Bad Girls is number 35 and moving up.
What we are not seeing, at least not yet, is any 'price gouging.' Apple stirred controversy after Whitney Houston's death when they apparently raised prices for her music. Apple was accused of trying to profit on her death. Later it was discovered to be 'an error' made by the company that owned the rights to Houston's music, Sony, and was 'corrected.'
The iTunes store currently has most of Donna Summer's singles priced at $1.29. At this point, Summer is not showing up on the top of the iTunes charts, but we're not sure what time they update the chart. We'll keep an eye on it and provide updates below.
–update, 5/18/12–
Ah, as expected, Donna Summer now rising on the iTunes charts as well. Her album On the Radio – Greatest Hits, Vol. 1 & 2 is number 9 this morning. The Journey: The Very Best of Donna Summer is number 13, and Endless Summer is number 14.