Verizon announced the launch of their new Motorola Droid 4 smart phone today.
The Droid 4's calling card is a big, backlit, QWERTY keyboard, something that fewer and fewer smart phones are including. Many just have touchscreen keyboards these days. Despite the slide out keyboard, the phone is still rather thin, coming in at half an inch thick.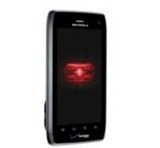 This new 4G smart phone has a four-inch LCD touchscreen, a dual core 1.2 GHz processor, an eight megapixel rear facing camera, and a 1080p HD video recorder. While it comes with Android 2.3, Verizon says they'll have an update to Android 4 (Ice Cream Sandwich) coming soon.
Pricing varies pending on the distributor. With a two-year Verizon contract, the phone is available directly from Verizon for $199. At Wirefly and LetsTalk it's $149. And over at Amazon Wireless, it's $99.