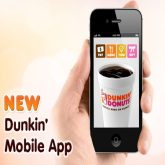 After Starbucks started to accept mobile payments, Dunkin' Donuts released a similar application that can be used through Android or iOS. This allows customers to easily make payments with the use of a mobile device.
Just like Starbucks, Dunkin' Donuts uses a 2-D scanning barcode system to allow mobile payments. The customers can basically load funds on a Dunkin' digital card and then use the barcode with a scanner. This allows a really fast payment of beverage and food treats.
This new mobile payment option is currently accepted at drive-thru windows and in-store in over seven thousand US locations. The mobile app includes a store locator, menu items nutritional information and even a mobile gifting feature that will allow you to send gift cards to your friends with the use of Facebook, text or email.
John Costello, chief global marketing officer for Dunkin' Donuts, declared:
With our new mobile app, we are enabling an entirely new level of speed and convenience for our guests that will further distinguish our brand throughout the country.
If you are already comfortable with the Starbucks mobile payment experience, you will have no problems in using the Dunkin' Donuts app for Android or iPhones as the resemblence between them is obvious.
Duncan Donuts told Consumer Press that they do not offer coupons through the app at this time. However, they did say they are excited about the idea, and are exploring ways to make special offers available through the app  later this year. The company's representative also said they have been receiving very positive feedback from users of the new Duncan Donuts app.
Below is the official Dunkin' Donut video about the mobile payment system. The app is available on Duncan Donut's site.
httpvh://youtu.be/tDRsJUZRYM8