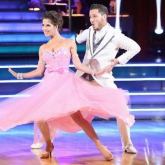 This week on the pre-results show, Dancing with the Stars took a trip down memory lane with a look at the breakout performances from the stars' original seasons.
Though all the celebs had moments to be proud of, Sabrina Bryan was singled out for her early dismissal back in Season 5.  She was proof that anyone can go home at any time, but not this week.
Sabrina and Louie were the judges favorites and they led off the live portion of the results show. Soon after they were declared safe for the week along with Emmitt and Cheryl and Drew and Anna, who were in the bottom two last week. First under the red light, Joey and Kym.
Teen sensation Cher Lloyd brought the midway to the ballroom with stilt walkers, carnival cutouts, a strong man and a troop of underage dancers.  And was that Santa Claus in the audience? Strange.
Even stranger was the futuristic battle that took place on stage as part of Macy's Stars of Dance. It was fire against ice in this dramatic number that combined ballet moves with break dancing and gymnastics
The dancing continued as the all-star troupe paid tribute to some iconic dances from past seasons.
Then, So You Think You Can Dance stars Benji and Lacey Schwimmer took the floor with a high energy West Coast Swing.
The second round of cuts had Shawn and Derek safe along with Kirstie and Maks, but Kelly and Val ended up in jeopardy. The biggest surprise was hearing the word 'safe' in regard to last night's bottom duo, Bristol and Mark.
Opera star and former DWTS contestant Katherine Jenkins gave the audience a calming break as she performed with icon Plácido Domingo.
Then it was on to the final round of cuts. Gilles and Peta, Melissa and Tony, and Apolo and Karina were all declared safe, but that left fan favorite Helio and Chelsie in the bottom three.
After a nail biting as break, Tom made things worse by announcing that Kelly and Val were safe, leaving two of the most expressive dancers in the bottom two.
In the end, it was Joey and Kym who were eliminated. Joey headed out with a great attitude, but it was still a tough goodbye
Next week, the couples will have to interpret an old routine, and that will be followed by a double elimination.
Did the right couple go home, or was Joey eliminated way too early? Leave your thoughts below!