The Commercial Meat Company, based in Los Angeles, in conjunction with the U.S. Department of Agriculture's Food Safety and Inspection Service (FSIS) announced a recall of 377,775 pounds of ground beef today.
The meat being recalled includes
-10,15,20,30,40,50 and 60 lb. cases of bulk ground beef
– 5,10 and 20 lb. cases of ground beef patties
– 10,15,20,30,40 and 50 lb. cases of ground beef taco
– and 5,10,15,20,25,30,40,50 and 60 lb. cases of ground beef chili
The ground beef was produced between 9/7/2011 and 10/6/2011. Each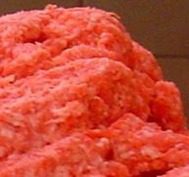 case has a label the the establishment number "EST. 4873" inside the USDA mark of inspection. The cases were shipped primarily to restaurants in California and Nevada.
Routine monitoring by the FSIS resulted in a positive test result for E.coli O157:H7. The Commercial Meat Co did not hold the meat pending test results, according to the announcement, requiring a recall when the test results were completed.
No reports of illness due to the consumption of the ground beef has been reported.
E. coli O157:H7 is a potentially deadly bacterium. According to WebMD, children are more susceptible to infection. Generally infected people will experience stomach cramps, diarrhea (sometimes bloody), nausea and vomiting. Some can be infected without experiencing symptoms, but can unknowingly spread the bacteria to others.
Symptoms generally abate in about a week. However, they can continue for two weeks.The illness can cause kidney failure, long term disability, or death, in older adults and children.