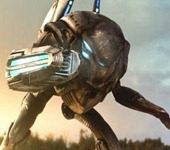 A sneak peak of TNT's Falling Skies indicates we will be getting a fresh face on the popular series. A beautiful stranger, Avery Churchill, played by Camille Sullivan, flies in to meet our wayward heroes at their new airport home.
How she manages to fly around in a plane without being noticed by the aliens? Maybe that will be explained in the next episode, 'Compass.' You may recognize Sullivan. She is a Canadian actress who had roles in "Rookie Blue," "Shattered," "Da Vinci's Inquest," and "Intelligence." She's also guest starred on "Battlestar Galactica," "Stargate Universe," "The Killing," and "Alcatraz" (in the pilot, as Jack Houghton Sylvane's wife Sonya).
In the sneak peak, which can be seen at TV Guide, Avery surprises the refugees, who aim their guns at her plane as she rolls to a stop. "Hello there. Who do we have here?" she hollars with great cockiness. After finding out they are the 2nd Mass, she shouts down from her plane "I've been looking for you." Something about her demeanor brings to mind Geena Davis as the first female president in "Commander In Chief."
And that's about all we get from the sneak peak. If you haven't seen the second season extended trailer yet, it is below.
"Falling Skies" airs on TNT Sunday nights at 9 pm. Will you be tuning in? Tell us what you think of the show in the comments section below.
http://youtu.be/cULvDiqxujc