HTC launched a new series of smartphones today that they are calling 'HTC One.'
HTC released the phones at the Mobile World Congress in Barcelona, Spain, yesterday. According to the company, these smartphones will have a strong focus on design, photography and audio.
Peter Chou, CEO of HTC, said of the new phone line:
"The best moments in life are captured with a photo or remembered by a song, so it was key for the HTC One series to improve these emotional experiences with an amazing camera and authentic sound experience. We are very focused on creating a camera and audio experience customers will love and use often and we believe the HTC One series delivers this in a way never seen on a phone before."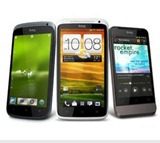 HTC will begin launching the HTC One series in April. The three that will be available will be the HTC One X, the HTC One S, and the HTC One V. The One series will have a global launch, and will be available through 140 different carriers and distributors. Here in the US, the carriers with one or more in the series will include AT&T, C-Spire, Cellcom, Metro PCS, Bluegrass, OpenMobile, T-Mobile, U.S. Cellular, and Virgin Mobile.
AT&T will carry the HTC One X. T-Mobile will carry the HTC One S. Which phones the other carriers will have was not announced.
HTC said their plan with this phone was to make it the one phone, the one camera, and the one music player, that anyone would need. The camera has been designed to take high-quality photos, according to the company, something they said has been missing in other phones. The camera includes super-fast capture and  'autoburst', the ability to take pictures one right after another by holding down the shutter button. Photos can also be taken while a video is also being shot. For music, the phone includes Beats By Dr. Dre Audio, and has a customizable system place to organize different music services and apps.
As for the differences between each model? Some of it will be a difference of high end versus an economy model. The HTC V is expected to on the lower end of the pricing (though no prices have been announced at this point). The HTC X is the deluxe model. HTC S is the slim (7.9-mm) version.
We'll have more here on CP about each of these phones as pricing and other details become available.