Bungie, the developers of the successful franchise Halo, are now working on another space based adventure game code named Destiny.
The details of the new game were revealed to IGN.com through a document leaked by a reader.
Bungie confirmed to IGN that the document was "prepared by an advertising agency and represents an outside look at Destiny's plot, key values and more."
The document reveals the central plot that binds Destiny:
"Our story begins seven hundred years from now in the Last City on Earth, in a Solar System littered with the ruins of man's Golden Age. A massive, mysterious alien ship hangs overhead like a second Moon. No one knows where it came from or what it's here for, but only that it's our protector. Meanwhile, strange, alien monsters creep in from the edge of the universe, determined to take Earth and the Last City. We are young 'knights' tasked with defending the remains of humanity, discovering the source of these monsters and – eventually – overcoming it."
Elsewhere in the document, the massive alien ship is referred to as "the Traveler," said IGN.
Following the news, Bungie updated their website with a concept-art image with the following statement,"Go ahead. Take a peek. It's alright. We weren't quite ready, but we will be soon, and we can't wait to finally show you what we've really been up to. Stick around, we haven't even started yet."
Destiny will be a follow up to Halo and expectations will be for a game as massive and engaging as Halo.
Here is the concept art released by Bungie.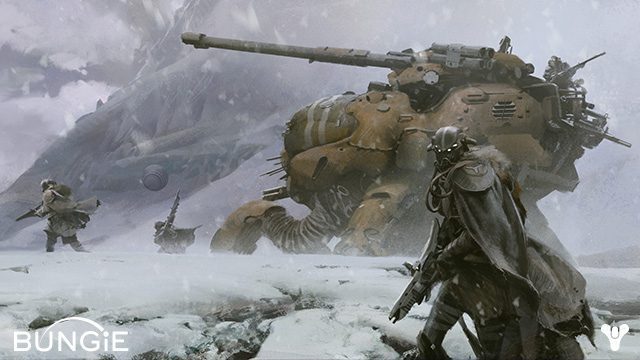 Share your predictions on what Destiny will be like in the comments section below!