Just two days ago we were lamenting that there had been no exciting product launches lately. That was while watching the lackluster response from shoppers during the launch of the Sony Vita.
But this morning there was excitement, albeit too much. The Orlando Sentinel is reporting that police had to break up a riot early this morning at the Florida Mall. An unruly crowd of hundreds was reported in the mall's parking lot at 9:45 PM. The cause of the gathering? Foot Locker's new Nike All-Star collection, which includes galactic themed shoe designs such as the $220, limited edition, glow-in-the-dark sneaker called the "Nike Foamposite One, Galaxy"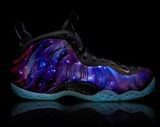 The sneakers were to go on sale at midnight at Foot Locker. The launch of the shoes was part of a House of Hoops by Foot Locker weekend event. The event includes a makeshift basketball court and NBA players signing autographs.
It appears that Foot Locker was aware that the shoes were garnering great interest. On their site they have maintained a list of updates related to the event, and yesterday they were setting rules concerning the sale of the shoes. The rules included a limit of one pair of the new shoes per customer, and it appears they may have begun releasing the shoes in some stores prior to the official launch.
On that same updates page, they have now announced the launch is canceled at the following stores due to safety concerns: Florida Mall, Pembroke Mall, University Mall in Tampa, Southlake Mall, PG Plaza, South Park Mall, and Crabtree Valley Mall.
According to WFTV in Orlando, some in the crowd had been waiting for the shoes to go on sale since 8 AM that morning. The resale value of the shoes is being estimated at 10 times the retail cost, leading to speculation that some were there to buy shoes to resell them. WFTV said they were told by Foot Locker employees that only 1200 pairs of shoes were to be sold nationwide. According to a listing on eBay, one pair has already sold for $1499.99.
The House of Hoops event and the launch of the new shoes was timed to coincide with the NBA All-Star Game in Orlando this weekend.