General Motors (GM) will be offering free GM loaner cars to any Chevy Volt owners who are concerned about the current investigation into post crash battery fires.
We reported on the Chevy Volt investigation last Saturday. The alarm was first sounded earlier this year when a Chevy Volt that had been in a National Highway Traffic Safety Administration (NHTSA) test crash caught fire in a storage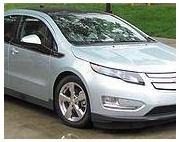 parking lot just over three weeks after the test. It was determined that the battery was damaged and the coolant line ruptured during the test crash, and these eventually ignited the fire.
Additional tests were carried out to confirm the possible cause of the fire. Replicating the conditions of the test crash with the three separate batteries, the NHTSA said one battery caught on fire about a week after the damage. A second battery smoked and sparked, but did not ignite.
GM was notified that the agency will be opening a safety defect investigation, however, they made clear that they were not aware of any actual crashes that started a real fire and that Volt owners should not be concerned if they have not been in a serious accident.
In response, GM released a statement saying they would begin a "Volt owner satisfaction program" and would provide, for free, a GM loaner vehicle to any Volt owners who are concerned about the safety of the Chevy Volt.
"A vehicle loan program of this nature is well beyond the norm for a preliminary investigation, and it underlines our commitment to the vehicle and its owners," said Mark Reuss, the president of GM North America. "These steps are the right ones to take regardless of any immediate impact on our operations."
The statement also pointed out that the Volt has won over 30 safety awards worldwide, and has an NCAP five star overall vehicle score for safety.
In October the Chevy Volt topped the Consumer Reports survey of the most satisfying vehicles. Considering the high level of satisfaction, it would be surprising to see many Chevy Volt owners take GM up on the loaner vehicle, considering the fires occurred only after serious crashes and do not appear to be an immediate concern in actual daily use.
---
Have A Question? Ask Jessica!