An 83-year-old grandmother allegedly ran into the glass door of an Apple Store and is now suing the company for $1 million.
"Apple wants to be cool and modern and have the type of architecture that would appeal to the tech crowd, but on the other hand, they have to appreciate the danger that this high-tech modern architecture poses to some people," the woman's attorney, Derek T. Smith, told the New York Post.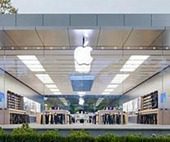 The plaintiff, Evelyn Paswall, claims that she broke her nose on December 13 when she smashed her face into the glass door at the Apple Store in Long Island. Paswall said she was unaware that she was walking toward a wall of glass as she neared the store. She was headed to the store to return an iPhone.
The lawsuit claims that "the defendant was negligent . . . in allowing a clear, see-through glass wall and/or door to exist without proper warning."
The Post says there is now small white warning strips on the glass. They did not know if the warning strips were there at the time that Paswall ran into the glass.
If the warning strips were placed on the glass after the incident, it could be seen as an admission of guilt when the case goes to court, according to a legal analyst.
Apple has not made any public comment concerning the lawsuit.