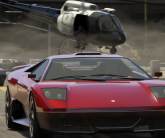 Rockstar Games released four new screen shots taken from the new Grand Theft Auto V. The screenshots were released on August 24, 2012 with the title of "Business" in the Newswire section of the Rockstar Games website.
The screenshots that were released depicted two images showing transportation, one being the GTA version of the Lamborghini being chased by a police chopper and the next image shows a biplane flying over a river.
The biplane has also been shown in the trailer of the game released by Rockstar in late November 2011 and thus nearly confirms that it will be a playable transport vehicle in the game. The other two screen shots have an action theme to them, with one being that of an escape sequence in a high speed car chase and the other having a laser sighted weapon being targeted towards a chopper.
The title for these screenshots, "Business," may indicate these are screenshots taken from different missions in the game.  In their batch of screenshots that were released on August 20, 2012 emphasize was on the transports available in the game.
The screenshot of a plane in that batch sparked speculation that it will be available for joyrides or during in game missions. The "Cheetah" makes an appearance again for this edition of GTA and also it seems that bicycles will be a feature again since it's first appearance in GTA-SAN ANDREAS.
The Next batch of screenshots released on August 22,2012 showed the various side activities available in the game, which included tennis, base jumping which was also seen in the GTA-IV expansion pack Ballad Of Gay Tony and dirt bike racing which may look familiar from GTA-SAN ANDREAS. By the steady flow of screenshots being released by Rockstar it harbors the progress in the development of the game and shows that the world of GTA-V will be expansive and varied in geography.
The new GTA is based in the city of LOS SANTOS and is speculated to be released in late October, 2012. There has been no official announcement regarding the exact date of release from Rockstar Games yet.