A new player is about to make a splash in the great HDTV picture quality debate.
This year the question will evolve from "LCD or plasma?" to "LCD, plasma, or OLED?" LG Electronics has said it will be coming out with a 55 inch OLED HDTV that will hit store shelves this year. It will be introduced at the (Consumer Electronics Show (CES) in Las Vegas, which starts next week.
So what is OLED and what does it do?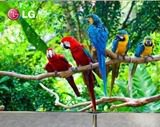 OLED stands for Organic Light Emitting Diodes. OLED HDTVs will feature really brilliant, crisp, displays. They'll be brighter, with more dynamic colors and contrast – and be super thin. The technology has been used in small screens for a while now (you may have heard of AMOLED screens on smart phones).  OLED technology holds a lot of potential, such as allowing screens to be flexible (roll up TVs?) or even transparent – where you would see through the screen until it was turned on. Roll up and transparent screens are years from actual being available in store bought models though.
Price has been a major factor in bringing OLED TVs to the public. It's been done on a small scale. Sony came out with a (now discontinued) 11 inch OLED TV about 5 years ago. It cost $2,700.
LG's 55 inch OLED HDTV is going to be pricey too. But wow, is it ever cool – it's only 3/16 of an inch thick and weighs in at just 16.5 lbs. The price? Hmmm, that hasn't been released yet. The WSJ quotes NPD DisplaySearch as estimating the TV will be about $8000 early on, but the price will decrease to about half that a year after it debuts. But prices on plasma and LCD HDTV's are expected to continue to decline as well, so the question will remain for shoppers – how much money is a picture worth?
LG's 55 inch OLED HDTV is expected to be launched during the third quarter of this year – so we are looking at six to nine months until we see it in stores.