The HP TouchPad continues to make headlines 5 months after it was discontinued and quickly sold off in the HP TouchPad firesale.
Just days after HP surprisingly issued an update for the HP TouchPad's WebOS software, CyanogenMod says they have an early version of a port ready to put Andriod 4, also known as Ice Cream Sandwich, on the TouchPad.
Many HP TouchPad owners, including some of us here at CP, have been eagerly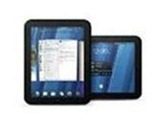 awaiting the new Cyanogenmod Ice Cream Sandwich port. Mostly so we can jump onto the Android Market for Android Apps. While WebOS does have some handy apps, it doesn't provide anywhere near the number of choices available for Android devices.
According to CyanogenMod, whose website is currently dark as part of the protest against SOPA and PIPA (it's scheduled to be back up at 8pm Eastern Time), this version is Alpha 0, which means it's not even in 'Beta' yet. There are things that do not work. As examples, they say that Netflix will not work yet, and YouTube only works with non-HD videos. They report that audio is a "mess." The camera does not work. Market filters prevent some apps from being installed. Traditional storage mounting is also not supported.
At this point, the install instructions are still in geek speak, and do not appear easy for a non-geek to follow. Perhaps easier instructions will be available once CyanogenMod's site is back up, though we expect the install process to remain rather geeky for quite some time.