Something rather strange and unexpected is going on with Pampered Chef ice cream scoops.
According to a recall announcement issued by the US Consumer Product Safety Commission (CPSC), the handle of the scoop is liquid filled. Like many things, liquid expands when hot. When the ice cream scoop is exposed to warm water, the cap at the end of the handle can fly off "with substantial force."
The Zeroll Company, of Fort Pierce, Florida, has received 16 reports of the cap flying off. Six of these incidents resulted in personal injuries, including lacerations, bruises, or redness. Other incidents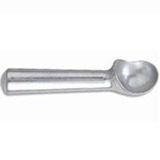 included damage to kitchen items.
The ice cream 'dippers' are described as being a metallic gray aluminum. The cap on the base of the handle is dome shaped. The words "Pampered Chef" are located on the cap. The dipper is about 7 inches in total length. A non-toxic liquid is sealed inside the handle, which is intended to conduct heat from the user's hand to more easily scoop through hard ice cream.
The product was sold from June 2010 through September 2010 by Pampered Chef consultants and through www.pamperedchef.com. It's price was about $15.
The company is asking shoppers to stop using the scoop, and to contact their Pampered Chef consultant for replacement or refund information. A contact form and additional information is also available at http://www.pamperedchef.com/recall/cust info collection.jsp.
---
Have A Question? Ask Jessica!