To the surprise of some, during Apple's reveal of their new iPad today, the company said it would keep the previous version, the iPad 2, in production. The price of the iPad 2 will be dropped by $100.
The base price for the 16 GB version of the iPad 2 will now be $399. The 32 GB version will be priced at $499. The 64 GB version will be $599. The new, lower, pricing is currently available at Apple.com. Best Buy, as of Wednesday evening, has not dropped the prices on their website.
The base price of the new iPad will be selling at the former base price point the iPad 2 had. $499 for 16 GB version, $599 for the 32 GB version, $699 for the 64 GB version.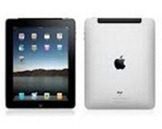 Other than price, what are the differences between an iPad 2 and an iPad? We need to digress a bit here… the new iPad is not numbered. So the iPad is new model, the iPad 2 the previous version. Anyway… other than name and price, what are the differences?
Well, the iPad 2 is slightly thinner and slightly lighter than the iPad. Battery life is about the same on both. For the extra $100, shoppers will be able to get an iPad that is faster, has a hi-definition retina display (double the resolution of the iPad 2), and a better camera. The new iPad also features a voice dictation program (not Siri).
It will be interesting to see if shoppers continue to support the iPad 2 and how long it will stay in production.