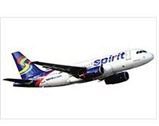 What could have been an easy public-relations win for Spirit Airlines has instead made the company public enemy number one to many US veterans.
A "Boycott Spirit Facebook" page has been created and so far has 3,260 'Likes' (and that number is growing fast – click here to see how many it has now). Veteran's groups are talking about boycotting the airline in mass, and Peter Forbes, president of the Veterans of the Vietnam War and the Veterans Coalition, told FoxNews.com ""They've got no humanity, they've got no patriotism."
So what got Spirit Airlines in such hot water with veterans?
It denied a refund to a dying veteran, Jerry Meekins.
Meekins, a resident of Clearwater, Florida, had planned a trip to Atlantic City to see his daughter. The 76 year old veteran has been diagnosed with terminal esophageal cancer. After the tickets were purchased, his doctor told him not to fly.
Meekins contacted Spirit Airlines and requested a refund. But… here's the catch… Spirit has a strict no refund policy. They do offer insurance that would provide a refund under such circumstances, but Meekins had not purchased insurance.
Spirit Airlines denied his request for a refund. Despite intense media scrutiny, they've stuck to their no refund policy. Just yesterday, company spokeswoman Misty Pinson was asked if spirit had reconsidered refunding Meekins. Without elaboration, the she said "No."
After that response, calls for boycott began to grow louder. The company has been widely condemned on news sites and blogs for it's lack of ethics and compassion.
We have to wonder though… should Spirit Airlines, or any company, provide exceptions to their policies simply because incident gets media attention? Could Spirit Air be doing the right thing by not caving to media scrutiny?
On the face of things, it seems like it would have been a wise for the company to change course and offer of quick refund once the issue hit the media fan. It certainly would be better for Spirit Air to get this issue out of the news.
But lets look at this issue from another angle. Is it fair to their customers who did buy the insurance… or didn't and therefor didn't get a refund when something prevented them from using their ticket… for Meekins to get a refund simply because the media got involved?
Could, perhaps, Spirit Airlines actually be taking the higher moral ground, actually being fair to it's other customers, by denying Meekins a refund?
While we certainly wouldn't begrudge Spirit for providing a compassionate resolution – the bad press is sure to cost them customers and they should get it over with – but what about everyone else that deserves some compassion? Or is compassion, and policy exceptions, only earned if the customer gets their face in the news?
What do you think? Leave your comments below.