While randomly browsing through the comments section in one of our more Jensgift.org.
"I have just launched a new website that will donate 2% of all Amazon sales to charity", she said, "would love to raise $10,000 for this month's charity".
Interested (but extremely skeptical), I immediately visited the website, fully expecting to see the a few of the distinctive signs that typically point towards internet deception.
However, upon arrival, I realized that either this is an extremely clever, and masterfully crafted hoax, or maybe, just maybe,  Jensgift.org is actually a legitimate attempt at philanthropy.
JensGift.org in a nutshell
JensGift.org is a website that takes advantage of the affiliate programs offered by Amazon and Ebay, in order to allow its users to shop online while simultaneously raising money for charity.
The website allows altruistic consumers to shop on the aforementioned online stores through the affiliate links placed on it's homepage.
After a purchase is made, Jen, the owner of the website, promises that 2% of the overall price of purchased will be donated to whatever charity has been chosen on that month.
I proceeded to get in touch with Jenny to ask her a few questions about her website. Here is some of what I got back :
Why did you decide to start JensGift.org ?
Jenny : Ever since I was a young girl, I've been telling everyone my plan in life is to get rich and then do amazing things for charity. And then I started thinking about this and realised I should be doing things NOW. I was inspired to create Jen's Gift after reading about AmazonSmile, which donates 0.5% of sales to charity. I knew I could offer more than that – and here we are!
How long has the website been up?
The website is still fresh! It has been up for about a month.
Are you working solo, or do you have a team behind you?
Jenny : I am just working on my own at the moment. I would love for it to take off and need a helping hand though!
Are you personally making any money (profiting) from this website? It is OK if you are?
Jenny: I make a minimal amount, and really it only covers the cost of having the site hosted and some money to cover my time. I have recently resigned from my full-time job to take this more seriously, so it's only really maintenance money.
If Jen's Gift takes off and people regularly head there before shopping online, I am hoping to increase the percentage I give to charity.
Analysis : Unbeknownst to Jenny, the fourth question that I had asked her was intentionally worded in a way that would trip up any would-be scammer, trying to bank on the ignorance of (me) the interviewer.
I know, from personal experience, that both Amazons and Ebay's affiliate program offer referral rates of more than 2%, meaning that any claim of 100% donation would immediately begin to raise  suspicion (i.e. Where is the rest of the money going?).
Fortunately however, Jenny did admit to pocketing a portion of the money, immediately reducing my suspicions upon reading it.
Are you planning to grow this website further (adding more features and expanding your reach)?
Jenny: I am currently looking into ways to add more retail stores to the site. eBay and Amazon are two of the biggest, so that's a good start – but obviously the more options I can offer shoppers the better.
I would love to add a donation counter to the site, whereby everyone can see how much we have raised so far for the month. Reaching out to people and trying to change their habits so that they head to Jen's Gift before shopping on eBay or Amazon is the biggest challenge.
I don't have masses to spend on advertising, so I really am relying on word of mouth.
You must realize people will need to be assured that this is not a scam before they start trusting your website.
Jenny : I fully understand that trust is very important to the success of Jen's Gift, and I have certainly given it a lot of thought. I am hoping that that trust will be built over the next few months after I am able to post evidence of charitable donations.
But I suppose it is important that shoppers are reassured that it doesn't cost them anything extra to shop through Amazon or eBay via my website and it's no different than going directly to those sites.
 Final Thoughts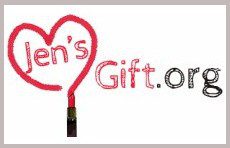 At this point, it is all but impossible to tell whether or not Jennsgift.com is a genuine attempt at charity, or an opportunistic scheme aimed at making a few extra bucks; though I do not personally believe this to be the case.
At the end of the day, using JensGift.org comes as no extra expense to the consumer. Shoppers will lose nothing, yet, if this website turns out not to be a scam, the needy will gain so much.
Follow CP on Twitter, Facebook and Google Plus for all the latest and greatest in deals, tips and consumer news.