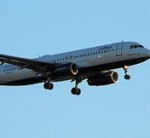 The former JetBlue flight attendant who made national news with his dramatic exit from the plane, and his job, at JFK airport in August, may offer a guilty plea to a misdemeanor charge as a part of a plea bargain deal with the district attorney in Queens.
Steven Slater is set to head into the Queens Supreme Court on Tuesday, where he will discuss a potential settlement with the district attorney in the case.  Slater's defense attorney Daniel Horowitz announced last month that he was attempting to negotiate a plea deal and that he looked forward to a resolution.
The district attorney has stated that he was considering the defendant's request for an alternative sentencing. The agreement would require that Slater participate in anger management and alcohol counseling programs.  In exchange for his agreement to this he would be allowed to plead to a misdemeanor and would serve no jail time.
Slater was charged with reckless endangerment, criminal mischief and criminal trespass which could have landed him in jail for seven years. He pled not guilty to the charges.
The incident in August began when Slater used a public address system to curse a passenger. He then took a couple of beers, deployed the emergency evacuation slide and used it to depart the plane in a dramatic exit.
JetBlue immediately suspended Slater from his position and he resigned a month ago.
The exit became known around the world and gained Slater numerous fans. Speculation is that it could lead him to a TV contract as well. Hollywood public relations expert Howard Bragman has agreed to represent the flight attendant. He stressed that court came first. Once that has been resolved, Bragman says they will deal with the rest.