Best Buy dramatically dropped the price of the HTC flyer yesterday, from $499 to $299. Considering the recent HP TouchPad firesale, and all the after-sale hoopla that caused, we had to ask "What if I just bought an HTC flyer, will I be reimbursed for the price difference?"
According to Best Buy, the answer is 'Yes'. However, the allowed time frame is very short.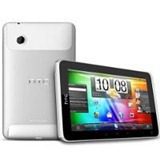 Best Buy spokesman Jeremy Baier replied to our request for more information on this. "We have a 14 day return/exchange period for tablets" he wrote, "so if the customer
is within their return/exchange window, they could get reimbursed. If they are past their 14 days, they would not be reimbursed."
So it appears the window starts at the time the HTC Flyer was purchased, and goes for two weeks. That would mean an HTC Flyer purchased from Best Buy on September 18th would qualify for the reimbursement if brought back in today, but not tomorrow. If bought from Best Buy just before the price drop, on September 30th, the consumer has until October 14th.
Of course, Best Buy will only be reimbursing consumers if the HTC Flyer was purchased through Best Buy, proof of purchase from Best Buy will, no doubt, be required. Best Buy is the exclusive dealer for the Wi-Fi version of the HTC Flyer, though it can be found at third-party sites such as eBay and Amazon.