A new survey from the shopping research firm ChangeWave has found that owners of Apple iPads are more satisfied with their tablets than owners of Amazon Kindle Fires.
More than half (54%) of Kindle Fire owners reported than they were 'very satisfied' with the Fire, and 38% reported that they are 'somewhat satisfied'.
That compares to almost three quarters (74%) of Apple iPad owners who said they were 'very satisfied' with their Apple iPads. An "Other Tablet Devices" category comes in third place, with 49% of respondents saying they are 'very satisfied'.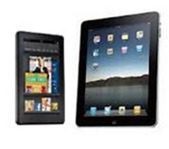 Not surprisingly, the cost of the Kindle Fire was one of the things that Fire owners liked best about the device. The Kindle Fire retails at $199, whereas the Apple iPad retails for $499 and up. 59% of respondents said that the price was the thing they liked best about the Kindle Fire.
Other Kindle Fire features that owners reported liking the best were, color screen (31%), ease-of-use (27%), selection of e-books (20%), size and weight (19%), and e-mail access (15%). Integration with Amazon account, long battery life, and screen size, each came in at 12%.
Topping the list of things that Fire owners don't like about the tablet was the lack of the volume button (27%). Other 'most disliked' items included the lack of a camera (21%), short battery life (15%), lack of 3G/4G (12%), and the number of apps available (12%). Screen size, lack of a microphone, and the location of the on off button, each came in with a 10% most disliked rating.
Unfortunately, the survey did not include similar detailed likes/dislikes for the Apple iPad. The survey was taken in January.