The layaway Secret Santa movement appears to be growing – expanding across the US and now crossing over 2390 miles of ocean and appearing in Hawaii.
According to the Honolulu Star Advertiser, a Secret Santa showed up at a Kapolei Kmart with $3000 to pay off the remaining balances on a number of other customers layaway accounts. The man is said to be an older gentleman, a local, and regular customer at the Kmart. Though known by employees, he wished to remain anonymous.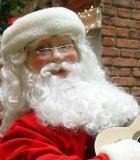 Layaway Secret Santas have also been reported at Kmarts and Walmarts in Ohio, Indiana, Montana, Illinois, Florida, Nebraska, Iowa, Michigan, Indiana, Georgia, Montana, North Carolina,California and other states.
The whole layaway Secret Santa thing appears to have begun  in Michigan. A woman approached the layaway counter at a Plain Township Kmart and asked if she could pay off the layaway accounts of strangers. Her one requirement is that the layaway accounts included toys in them. You can read our story about her, and take a look at whether the layaway Secret Santa trend is likely to be abused, here.
Wood TV was the first to report the original story, and as the act of kindness made the rounds online and in newspapers,  reports of other people doing the same thing began to appear. The woman who, apparently unintentionally, began the layaway secret Santa movement – still remains anonymous.